Age Information
At this location the minimum age is 21.

Under 25 Surcharge
A young driver surcharge may apply.


Additional Drivers

All additional drivers must meet the same minimum age and driver's license requirements as the renter. All additional drivers must be present at the start of the rental. An additional fee may apply.



Payment Options


Avis generally accepted credit and debit cards include; Visa, MasterCard, American Express, Diners Club and an Avis Charge Card. However, some locations may not accept all card types.

At commencement of rental, Avis does not accept a prepaid or reloadable stored value card, a travel money card or an EFTPOS card. A credit or debit card must be presented at the start of rental. At the end of the rental, some Avis locations will accept a prepaid or reloadable stored value card as a final form of payment.

Please Note: Rentals paid for by a valid credit/debit card will be subject to a card transaction fee of 1.29% (including GST) at time of pick-up.

Pay Now: If the names on the credit card do not match the credit card used at Reservation, it may be deemed as a non-permissible change to your Pay Now reservation. You may be required to cancel and re-book at the current rates (including any reasonable and applicable cancellation fees).



Taking your vehicle outside the Country

Not applicable. Cars are not allowed outside of the country.



Waiver and Protection Options
Loss Damage Waiver (LDW/CDW)
LDW/CDW is included in most rates. The renter is liable for all damages to the Avis vehicle and to third party property up to the excess amount, applicable to the rate. LDW/CDW reduces customer liability from the full value of the vehicle to a nominated excess.
The customer is responsible for ALL DAMAGES in the following situations:

• Car is driven into Western Australia, North of Carnarvon, without prior Avis approval, when the vehicle has been rented from an Avis location outside this region.

• The vehicle is used for towing purposes.

• Negligence or breach of the rental agreement terms and conditions or laws of the state.

• Overhead or roof damage caused, but no limited to, contact between the vehicle and objects overhanging or obstructing the path of the vehicle, or damage caused in any other manner.

• Water damage to the vehicle or any underbody damage, and any resulting damage from that underbody damage, to the vehicle.

Other coverages may be available at the counter, check upon arrival for information.

Damage to people and their property

Public liability and Property damage (PLPD) are included in all rates at no additional cost, under LDW.

Public Liability covers injury or death to persons outside the Avis vehicle.

Property Damage covers damage to property other than the Avis vehicle or renter, drivers or passenger's property.

Customer must request further information at counter.

Public liability cover is within accordance of the insurance laws of the country.

Excess Reduction (ER)

Purchase of Excess Reduction (ER) reduces the amount payable in the event of a claim.

Please note that even if you pay the Excess Reduction, you are always responsible for the full costs of repairing any overhead damage, apart from hail damage (for example, damage which occurs if you drive the vehicle into a bridge, a tunnel, a tree or the roof or boom gate of a car park); underbody damage (for example, damage to the exhaust systems, suspension and chassis caused by carelessly driving over gutters of curbs or driving along poor quality roads at excessive speeds); water damage or damage caused by breach of the rental agreement.

Coverage conditions may vary by rate code.

Customer may inquire for additional information of the benefits, conditions and acceptance at the time of rental.

Personal Accident Insurance (PAI)

Avis offers a Personal Accident Insurance to customers on an optional basis.

RENTER: Covered during the term of the rental agreement for accidental death or injury sustained in an accident independent of all other causes.

PASSENGER(S): Covered during the term of the Rental Agreement for accidental bodily injuries sustained in an accident independently of all other causes, occurring while riding or driving with the renter and while stepping in or stepping out of the Avis vehicle.

Personal Effects & Baggage (PEB)

Avis offers a Personal Effects and Baggage Insurance to customers on an optional basis for AUD 5.50 per day.

• The coverage is in effect for the entire length of the rental.

• Personal Effects & Baggage protection insures the personal belongings accompanying the renter and the immediate family members who are travelling with the renter.

• This covers an individual renter for up to AUD 2,025 less the deduction of AUD 27.50 for loss or damage of baggage or personal belongings. The maximum total payable during the period of the vehicle rental is AUD 6,000 for renter and family members and in the case of joint renter.

Personal belongings are insured against physical loss or damage. There has to be a sign of forcible entry into the vehicle to make a claim. Examples of personal belongings that would be covered are: luggage, clothing, golf clubs, and brief case.

Exclusions: PEB does not cover such things as: money, securities, tickets, documents, currency, jewelry, credit cards, household effects, perishables, animals.






Driving License and ID Requirements


The Driver must (i) hold a full and valid driving licence (not being a learners licence or provisional licence), (ii) have an International Driving Permit (IDP) or official translation (if licence is not in Roman alphabet), (iii) have held their licence for minimum 12 consecutive months immediately prior to signing the Rental Agreement.
An International Driving Permit is not a stand-alone document and this must be carried with your valid domestic driving licence for it to be valid.
Digital drivers licences are only accpeted in the issuing state. If you're travelling interstate you must present a physical (plastic) drivers licence.




Fuel Charges

Customers receive the car with a full tank of gas and should return it with a full tank. Otherwise, they will be charged a refueling charge at the time the car is returned.

Gas/petrol is not included in rates.

The price of gas/petrol is available at time of check out.





One Way Rentals

Cars may be returned to other Avis locations in Australia, a one-way fee may apply.

Where You Can and Cannot Drive The Vehicle

Renter and any Authorized Driver must not, unless authorized in writing by Avis, drive or take the Vehicle:

• to Gove Peninsula or any island off the coast of Australia (including, but not limited to, Kangaroo Island, Bruny Island, Fraser Island, Magnetic Island, Groote Eylandt or the Tiwi Islands)
• into or out of the Northern Territory, Western Australia or Tasmania
• in Queensland

o on Highway No.27: beyond Chillagoe in a Westerly direction
o on Highway No.1: beyond Normanton in a Southerly, direction and no further North than Karumba
o if the Vehicle is a passenger vehicle or truck, beyond Cooktown to the North or Lakeland to the West and no further North than Cape Tribulation on the Coast Road; or
o on the Coast Road from Helenvale to Cape Tribulation, or from Laura to Lakeland, unless the Vehicle is a 4 wheel drive vehicle

• in the snow (at anytime and anywhere (including Tasmania))
• above the snow line in:

o New South Wales (being Jindabyne); or
o Victoria (being Bright), from the beginning of June until the end of September

• on beaches or through streams, dams, rivers or flood waters; or
• in Western Australia, to any parts North of Carnarvon; or
• in the Northern Territory, on the Jim Jim Falls Road to Jim Jim Falls and Twin Falls.
Ferry Points
There is a ferry service in Australia, which operates from Mainland Australia and Tasmania.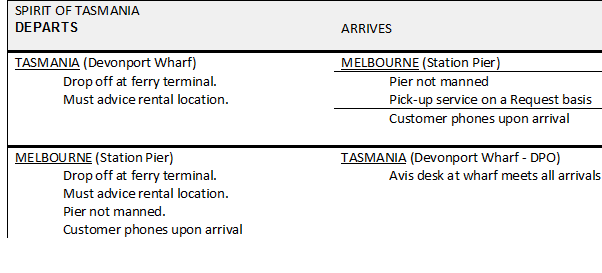 Special Equipment


Child Safety/Booster Seats
Child Safety and Infant Booster Seats are available for hire in Australia. Australian law states that children up to the age of 7 should be seated in the applicable seat. Please check at time of booking for costs and availability.

E-tolls
Avis vehicles are no longer fitted with e-tags in Australia. When you travel on a toll road, your number plate will be read and you'll be charged for the cost of the toll plus a $3.30 admin fee each day you use a toll road. The provider Linkt will charge the card which you provided at time of collection when you signed your rental agreement.


Miscellaneous

Rule of the Road: Drive on the LEFT.
Breakdown: For 24-hour, nationwide breakdown service, call 0800 652 847 (toll-free).

Chauffeur Drive: Not available.

Snow Line Policy
Without Snow Cover, Avis vehicles are not covered when driving above the snow line and you will be liable for the full excess on your vehicle. Add this product to rentals in Jindabyne - New South Wales, Bright - Victoria and all regions of Tasmania to explore without limitations or extra risk.
For rentals between June and the end of September in the above three regions, you must select cars that are permitted to travel above the snow line. Please contact Avis to confirm the permitted vehicles.