One to One | Avis Car Hire Greece
Do you only need one car?

Targeted at small and medium size companies as well as individual professionals.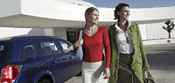 This program provides:

1-5 years rental ability
Stable monthly rental
Car maintenance
Car repairs
Car tire replacement
Insurance
Road Taxes
Road Assistance
Temporary replacement of your car when it needs service
Accident management

Are you interested in a cooperation for long term rentals/leasing?






Top