Fleet Management | Avis Car Hire Greece
Do you need to assign to Us the management of your private fleet?

This program is targeted to companies who wish to maintain the ownership of their fleet but need assistance in some fleet management services.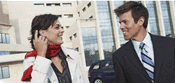 These services are:

Accident management
Support in the process of selling your fleet cars without your engagement
Car maintenance
Car repairs
Car tire replacement
Insurance
Road Assistance
Temporary replacement of your car when it needs service
Accident management

Are you interested in a cooperation for long term rentals/leasing?





Top